The Msgr. Charles A. Kelly, Jr. Division
Welcome
The Msgr. Charles A. Kelly, Jr. Division is located in the town of Midlothian, in North Chesterfield County, Virginia, just west of the City of Richmond, and serves the needs of all Catholic men of Irish birth or descent in the area. We meet every second Thursday of the month at St. Joseph's Church at 7 PM and work to promote Friendship, Unity and Christian Charity. Through our fundraising and volunteer activities, we contribute to the welfare of our local Catholic Parishes and schools.
Our monthly meetings engage all our members in planning and executing events throughout the year. We participate in the Central Virginia Celtic Festival and the St. Patrick's Church Hill Festival where we have the opportunity to meet and greet visitors interested in all things Irish. As a Division, we enjoy gathering together as a group to promote fellowship.
I invite you to look through our website and consider opportunities to serve the Division. I know you will enjoy it.
Dennis Mulligan - Division President
Our Start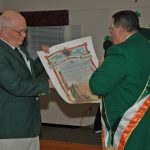 The Msgr. Charles Kelly, Jr. Division of the Ancient Order of Hibernians was formed in December, 2009 and conducted it's first meeting on January 21, 2010 at St. John Neumann Church, Powhatan, Virginia. In February of that year our planning continued and at our March meeting, State President Richard Alesky presented our first Division President, Mike McGee, with our new Charter and participated in the Initiation of our new Officers.
Since that time we continued to grow, adding new members and supporting and donating to Catholic schools and Parishes in the area, in line with our commitment to Friendship, Unity and Christian Charity.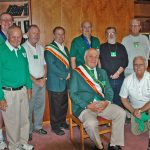 The AOH is the place to meet like-minded Irish-Americans who share the same values and beliefs.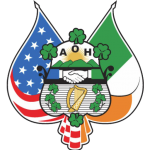 Because of our size, the AOH has a powerful lobby and is used to defend Irish causes. We believe in a United Ireland and will condemn any defamation of the Irish people.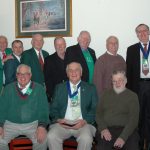 As part of our Division's efforts, we contribute to worthy charitable causes in our area and at the national level. We support our local Catholic schools and parishes on an ongoing basis.
Community Efforts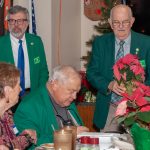 Our Division supports groups with donations of time and funding. We're happy to hear our local Boy Scout Troop describe a plan for improving sitting areas and trail cleaning for senior citizens. Our contribution of money and material helped them reach their goals.
Irish History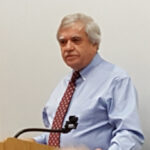 Our annual Irish History presentations, by history experts, to the public are very popular and have been receiving praise from past attendees. We plan to expand our space to accommodate even more attendees this year. There's lots of history to cover!
Irish Events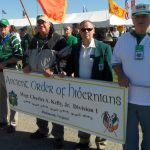 The Richmond area is a popular location for Irish events every year. The Church Hill St. Patrick's Festival and the Central Virginia Celtic Festival draw thousands of visitors each year and our participation gives us an opportunity to meet and talk about common Irish interests.